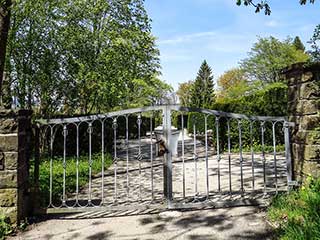 An automatic driveway gate makes life in Grand Prairie much safer and more relaxed. Your property is always protected, and you can let yourself, your friends, and your family in without getting up. A well-chosen wooden driveway gate or an imposing metal one can even make your property more attractive and pleasant to look at. Of course, to get the most out of your gate you need solid installation work, good hardware, and skilled maintenance. For local home and business owners, cheap driveway gate repair has never been easier!
Friendly Local Driveway Gate Services
A local company with years of experience, Driveway Gate Repair Grand Prairie provides a long list of services. Installation, repair, and upgrades for automatic driveway gates are all available. Any home and business address within municipal limits is in our service range, and our team prides itself on flexibility. From driveway gate opener repair to remote control troubleshooting, from software debugging to broken metal gate welding, you can have it all. Prices have never been lower, or appointments easier to schedule. For quality, cheap driveway gate care, there's only one Grand Prairie number to call!
New Gate Installation And Upgrades
If you need a new driveway gate installed, ours come with a free estimate to help you get the best value and the best gate. Would you like a ranch-style wooden driveway gate? Depending on the type of wood, these can be strong and beautiful, but also on the pricier side. How about an aluminum driveway gate, for low costs and weather resistance? The choices are almost endless with our rich inventory of driveway gates, openers, and accessories from trusted manufacturers.
Driveway Gate Stuck?
Anything that opens and closes can get stuck, and automatic driveway gates are no exception. Chain link driveway gates run the greatest risk of jams and breakages with their exposed tracks, but no type is perfect. Bars, arms, and hinges are also prone to failure, and a jammed driveway gate opener motor will bring any system down. Keep your tracks and hinges clean and well oiled to avoid jams, and have our team over if one occurs. Our technicians can weld, saw, and nail their way through any mechanical problem, or replaced the damaged part if that's the only option.
Electric Driveway Gates
Your automatic driveway gate needs a connection to a remote control handset or console. If your system includes live security cameras, reactive lights, or a driveway gate intercom, those will all need control and power supply connections too. Remote control failures are caused by faulty remotes, damaged antennae, or magnetic interference on your property. If you use a wired rather than wireless system, you might also have trouble with stripped or tangled wires. You can solve all that with our intercom and opener remote repair services, and even have us secure your smartphone connection. Our team can also add or replace any intercoms or other special features for your driveway gate.
Same-Day Gate Repairs
Get the best help available near you. Gate Repair Grand Prairie can help every residential and commercial property nearby with driveway gate-related troubles. We're happy to give free estimates on new gates too!