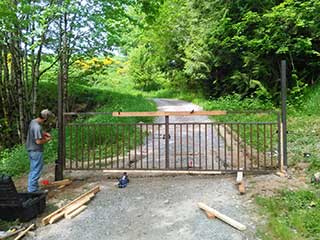 Driveway gates are an excellent addition to any home and business that takes the security, style and convenience of their property seriously. That is why we here at Gate Repair Grand Prairie offer a variety of services relating to the restoration, replacement and repair of driveway gates and their various components. When you refuse to compromise on safety, give us a call to find out more about how we can assist you.
Gate Opener Repairs
Your gate's motor is responsible for powering and automating it so that it can provide you with additional protection and convenience. Motors may, however, take a beating over time thanks to bad weather, extensive use and accidents. If your electric gate is not closing due to minor or major damages, you can rely on us to get it up and running again in no time with our range of automatic gate repair services.
Restoring old Gates
Old and damaged gates are not only an eyesore, they also pose a serious risk to your home's security. If yours is looking a little under the weather from splintering, rot or rust, don't wait for the problem to get worse. Speak to us today about our various gate repair services which are geared towards restoring your family's safety and security.
Gate Repairs for miscellaneous Components
Are your safety sensors acting up? Have your hinges cracked? Or perhaps your gate's intercom system is no longer responsive? Whatever the case, we work closely with manufacturers of gate parts to ensure that when you need gate and opener repairs, that we have what is needed to get things up and running again.
Give us a call Today!
If you are in the market for having any driveway gate repairs conducted on your system at home or business, be sure to speak to one of our consultants from Gate Repair Grand Prairie for more details, advice or a quotation.
We are waiting for your call.
We also offer:

Swing Gate Adjustment

Gate Remote Program

Wrought Iron Gates

Commercial Gate Service