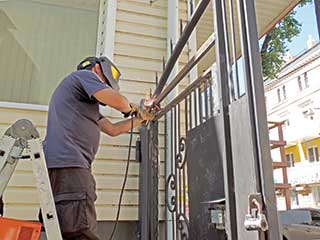 The first thing people see when they arrive at your property is your driveway gate. If you want to make a good first impression, then it's important to make sure that this is properly installed, so it always works reliably and smoothly. You'll also want to be sure that your gate gives you the right level of protection. That means you'll need a setup you can rely on. When it comes to installing gates, our Grand Prairie -based specialists are the best experts around. At Gate Repair Grand Prairie , we offer a huge range of different gate types and styles along with free estimates on gate installation. We specialize in installing both swing gates and sliding door setups. Read on to find out more about our services.
Affordable Wooden Gates
One of the most striking ways to welcome people to your property is with an all-natural wooden gate. We use the highest quality timber around to ensure that your property looks impressive. Wood provides several benefits, besides looking great. It's also very tough, resilient to damage, and can be repaired more easily than other materials. Thanks to the versatility of wood, it's also available in a staggering number of different designs. However, wooden gates do need to be regularly serviced and repainted to avoid problems such as rot or warping.
Cheap Iron Gates In Grand Prairie
Tough and good-looking, our range of iron gates gives you all the options you need to make your property secure and attractive. We even offer a range of custom gates made from iron, allowing you to create the perfect entryway for your Grand Prairie home. Iron gates are very durable but must be carefully maintained to avoid rust. Thanks to our Grand Prairie -based specialists, you can easily schedule expert maintenance services whenever necessary, ensuring that your iron driveway gates work perfectly for many years.
Great Steel Gate Deals
If you're looking for the last word in security, then custom steel gates are a great choice. This material is extremely durable and hardwearing, which makes it ideal for keeping your property safe from intruders. Steel is less susceptible to wear and tear than either wood or iron, so if you want long-lasting strength then this material is ideal. You don't need to compromise on curb appeal either when you choose steel. Our huge line of different design options makes it easy to find the right gate for your home.
Custom Gates And Fences
We offer everything you could need to make your Grand Prairie security or driveway gate attractive and safe. Not only do we provide a selection of custom designs and professional gate installation services, but also, we offer chain link fences and other perimeter security features. This includes wireless intercoms and above/underground openers. Find out what we can do for you by getting a free estimate today.