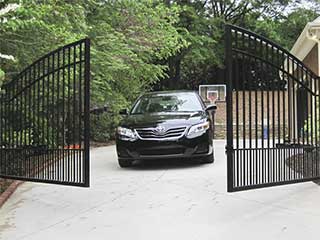 Our focus has always been on maintaining the high quality of our residential gate services. Clients expect us to meet their demands on time and ensure that all their gate related problems are solved in the most professional manner. To make sure that we live up to their expectations, our company has gathered a team of leading technicians in the industry who are capable of fixing even the most defective residential security gates.
What Makes Our Services So Special
Our company is able to offer a wide range of services courtesy of the expertise and experience of the technicians that we have working for us. You can always expect our professionals to be highly efficient and incredibly industrious. The following are some examples of how we can help people dealing with the problem of a faulty residential gate:
Gate Opener Repair
Residential gate openers are indispensable when it comes to making your electric gate work. Automatic residential gate openers in particular are prone to malfunction. Each opener contains a receiver box that accepts a signal from a transmitter. This signal is then converted and passed on to the control box which uses it to activate a circuit that starts the movement of the gate. A single flaw in the circuit could make it difficult for you to enter your home. Thankfully, you can count on our technicians to fix your gate opener or replace it with the best one in the market.
Gate Alignment Service
No matter how good the quality of your gate is, it will wear out after a certain point in time. This is mainly because of the fact that gates are exposed to outdoor conditions 24/7. The wear and tear can take a toll on the alignment of the gate. If there is a problem with the alignment, then chances are that the movement will not be as smooth as you have known it to be. Under such circumstances, the gate needs to be re-aligned by professionals, which is why we offer top notch alignment services.
Intercom System Repair
The intercom system at your residential gate must always be working in order for you to feel that your residence is fully secured. If there is a problem with the intercom, give us a call and we will send our experts to have it repaired. Ignoring problems in the intercom system could lead to a disastrous breach of security.
Call Now to Avail Our Residential Gate Repair Services
Not taking care of the problems with your gate will only make things worse. Before the gate becomes irreparable, contact Gate Repair Grand Prairie and our expert technicians will take it from there.
Our team can also take care of:

BSL Gate Opener

Program Doorking Intercom

Ornamental Iron Gates

Driveway Gate Troubleshooting