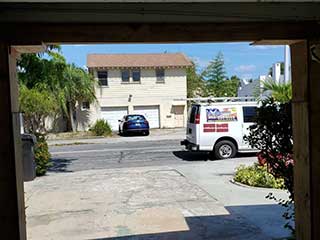 Our team doesn't specialize in just fixing and installing automatic gates. We also offer a wide range of services related to garage door systems, with an emphasis on repair. Our technicians are experts at handling both types of mechanisms, and we have a great deal of experience and skills, which allow us to find a long lasting solution to any type of problem.
Expert Opener Services
Just like your gate system, your garage door also becomes automated via an electric opener. These devices operate quite similarly, using a DC or an AC motor in order to generate a certain amount of horsepower. Of course, there's no shortage of problems these devices can experience, but luckily for you, our team can handle them all. If you need to have safety sensors realigned, a motor gear replaced or some problem with the drive system fixed, you know who to call.
Broken Spring Replacement
When it comes to garage door systems, the springs are the parts that bear most of the load. These hardworking components are under a great deal of stress, and they can end up breaking unexpectedly when they are mishandled or when they sustain too much damage. Replacing these units can be incredibly dangerous, so it's a job best left to the experts, i.e. our highly skilled technicians.
Professional Track Repair
Garage doors move using rollers that slide inside tracks. These steel sections a can become bent after a while, or develop rust, which can cause the door to get stuck. Leave it to our experts to quickly come over, troubleshoot the issue, and fix the problem with the tracks or replace them completely. We know exactly how to realign these sections so that the door's movement will be as smooth and stable as possible.
Call Us Today
Don't hesitate to reach out to our team at Gate Repair Grand Prairie as soon as you find something wrong with your garage door system. There's no problem too complex for our experts to handle.