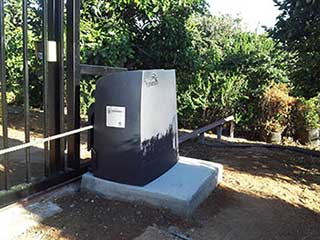 There are many different types of gate openers available and if you're shopping for one for your gate, it can be a lot to think about. No one understands this better than our team at Gate Repair Grand Prairie. We work with the leading brands such as Eagle Gates, LiftMaster, and Doorking because of the quality of their gate openers. These brands have a variety of opener models for you to choose from. Modern units come with Wi-Fi connectivity, security features, and backup batteries. We're certain we can help you decide on the best opener for your security or driveway gate.
Sliding Gate Openers
Many homeowners prefer sliding gates as they are inconspicuous when the gate is opened. A sliding gate works on the premise of cogs and teeth that are needed to start the motion of the gate. You will also need a guiding track and rollers to ensure the gate stays in the correct alignment. The sliding gate opener you choose will depend on the size and weight of your gate. If your gate is quite large, you will need a gate with a considerable amount of power. It is also possible to have dual gate openers installed for sliding gates if your gate is particularly large, or if you have a smaller front yard and don't have the space to have one large, sliding gate.
Swing Gate Openers
One of the most common driveway gates people choose to install are swinging gates. When paired with an opener, they are simple and don't need a lot of additional equipment like tracks and rollers. Most swing gates open inwards. However, depending on the space you have in your entrance, you can have them swinging outwards. Swing gate openers can pair with a linear ram arm, or an articulated, or hinged arm. The size of the motor for a swing gate opener will largely depend on the size of your gate and you can have them installed on a single gate or dual gates.
Dual Gate Openers
There are a couple of reasons you may need to consider installing dual gate openers. The first one is for a larger gated entrance. Rather than having one overly large gate, you can split your gate in half and connect the halves to dual gate openers. Many people, however, prefer having a dual gate. Those with limited entries find it easier to have two small gates instead of trying to fit in one large one. The reasons vary from function to aesthetics and even the heaviness of the gate. Dual gate openers can be installed with sliding or swing gates making them a versatile choice for homeowners.
Affordable Gate Openers Near Grand Prairie
No one knows gates and openers like the service team here at Gate Repair Grand Prairie. We can install the best gate opener for your home and ensure you get the most security and convenience out of it. An automated gate opening system will make entering and exiting your property easier and more convenient. Our installation team is fully qualified and certified so you can be sure your gate opener will be installed to operate your gate perfectly. Give us a call and we'll send our experts to your home today.
We also take care of:

Phone Entry Systems

Doorking Gate Opener

Security Gate Repair

Ornamental Iron Gates