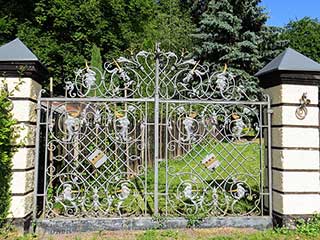 A good quality iron gate in the driveway will last you for a lifetime but, from time to time, some part of your gate will need to be replaced. Your iron gate hinges get the most wear and tear and the necessity for replacement is inevitable. If your gate hinges, or any other parts, need replacing, don't look at the cheapest options or you'll be changing them with alarming frequency. At Gate Repair Grand Prairie, we only use top quality replacement parts. Not only do these parts ensure the repairs are done right, but you also won't need to go through the entire process of arranging repairs in the foreseeable future.
Iron Gates Installed Right
A poorly installed driveway gate is a recipe for disaster. Not only will this make opening and closing your iron gate difficult and noisy, but it will also increase the likelihood of frequent repairs being needed. No one understands this more than our team of local gate installers and we only hire the best people with all the right qualifications. We also have several checks in place to make sure we don't leave your premises until the job has been completed and tested. This attention to detail is what makes Gate Repair Grand Prairie the best in the nearby area when it comes to iron gate installation.
Custom Iron Gates and Fences
To set your property apart from the rest of the neighborhood, we offer a free measure and quote for a custom iron gate. We'll show you the designs we have to offer, but you don't need to choose from our selection. We can help you design the perfect gate in terms of style, size, and iron gate bar designs. You can also select a color to compliment the exterior of your home for a complete look that doesn't clash.
The Best Iron Gate Options For You
Keeping your iron gate in great working order doesn't take a lot of work, but if you already have a pretty packed schedule, we can help you arrange a maintenance schedule. Our maintenance service involves checking your iron driveway gate to make sure everything is sitting neatly where it should be. We also check the iron fences and address any potential trouble spots. If we identify any issues during our maintenance check, we'll show them to you and, in most cases, rectify them on the spot. Otherwise, we'll arrange a time with you to come and take care of any necessary iron gate repair. However, you use your iron gate daily so if you detect a problem, give us a call.
Local Gate and Fence Repair & Installation Experts
We've bee working within the Grand Prairie community for quite a while and we are committed to servicing every driveway gate owner (or those looking to become ones). Next time you need to have your iron gate looked at, give us a call and we'll see to it that a qualified professional is promptly sent to your home. Don't forget to ask us about our free measure and quote when you're looking at having an iron gate installed. Contact Us for the best iron gate repair and installation service.