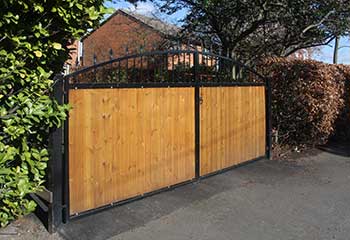 Iron Gate Repair
Customer Issue: Mr. Lefleur's iron gate was hit by a falling tree, and one of its leaves was badly cracked and broken. An entire half of the custom gate would need replacement.
Our Solution: We took careful measurements of the undamaged leaf, and began work on a perfect match with the opposite chirality. Fortunately, the opener wasn't damaged by the falling tree. Once we installed the new swing gate on the old one's hinges we reconnected the same robot arm to it.
Patrick Lefleur
- Grand Prairie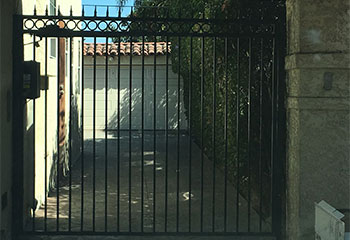 Gate Intercom Troubleshooting
Customer Issue: Mr. McCoy's intercom stopped working, and would play nothing but static even when someone on the other end was speaking.
Our Solution: Since the problem worked the same in both directions, we could tell that neither of the microphones or speakers were at fault. Since the customer's intercom had a wireless system, the issue had to be with signal connectivity. Some experimentation with moving the receivers revealed that changing outdoor conditions were responsible, and the addition of a signal router near the door made up for it.
Cameron McCoy
- Grand Prairie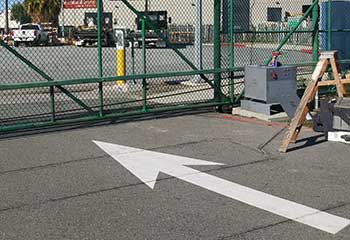 Chain-Link Gate Installation
Customer Issue: Mr. Sanderson needed to improve the security at his company. A heavy chain-link gate seemed like the most cost-effective option.
Our Solution: Since the driveway entrance was perfectly flat and level, there was no need for grooves or tracks. We fitted a set of wheels to a standard chain link sliding steel gate and cleared some bushes from inside the adjacent fence to make room for the opener and chain. The new system works as intended.
Dustin Sanderson
- Irving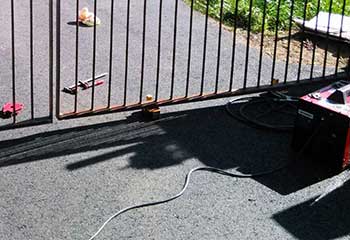 Iron Gate Repair
Customer Issue: Mr. Minmas' gate fell victim to a falling tree. Several of the bars snapped, and one of the hinges was torn partway off of the gate.
Our Solution: It's a good thing the customer had a double swing gate, or else the whole gate would need replacement. As it was, we removed one of the gate flaps and did some welding work on the robot arm attached to it, which also took minor damage when the gate broke. We installed a new iron bar gate flap to match the remaining, intact half of the gate.
Arthur Minmas
- Grand Prairie